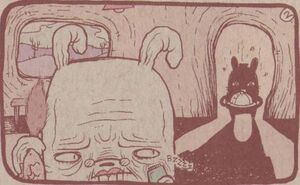 The Breakfast Master
is the sixteenth story in
Jellyfist
. This story is about two rabbits: "The Breakfast Master" and its grandma, a small young, and extremely sweet-looking bunny. It says that it has made breakfast. The grandma, who is shaving critters, dramatically says, "No... I told you never again. I TOLD YOU!" and the small bunny replies, "But I'm da bweakfuhst mastuh!" The grandma cries a silent tear and sighs before she asks forgiveness to God for what she must do, and pulls out a chainsaw. The breakfast master looks like he had rabies (with red eyes, foam in his mouth, his hair standing on end, and growing veins all over him), simply says "I'll be back gwammah!! RARRG!!" The story ends with the grandma covered in tears and blood saying, "I know".
Ad blocker interference detected!
Wikia is a free-to-use site that makes money from advertising. We have a modified experience for viewers using ad blockers

Wikia is not accessible if you've made further modifications. Remove the custom ad blocker rule(s) and the page will load as expected.