Ms. Bitters
is
Dib's
and
Zim's
cranky teacher. She's quite old, and seems to be capable of moving and hovering like a shadow. Supposedly she has been teaching for a very long time, as "the school was built around her".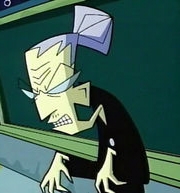 She is thought to be alien, though some disagree. She also appears susceptible to the sunlight, as she states she cannot be in the sun for long.
Ad blocker interference detected!
Wikia is a free-to-use site that makes money from advertising. We have a modified experience for viewers using ad blockers

Wikia is not accessible if you've made further modifications. Remove the custom ad blocker rule(s) and the page will load as expected.