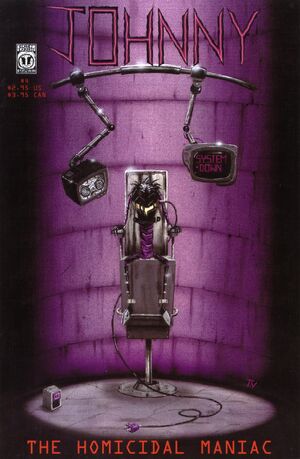 The fourth issue of
Johnny the Homicidal Maniac
.
Johnny and Nailbunny journey through the bowels of Johnny's house and discuss the nature of Johnny's psychosis. It is during this discussion that we learn a bit more about Johnny's past and his relationship with Nailbunny. Later, Johnny and Tess have a conversation in the dungeon as Johnny prepares to torture Dillon with electricity. Johnny kills a cockroach named Mr. Samsa after Gregor Samsa, the main character of Franz Kafka's short story, The Metamorphosis. Devi has been in seclusion since Johnny's attempt on her life in issue #2. Her friend Tonja (later renamed Tenna) convinces Devi to call Johnny, who has rigged up a tape recording of his apology/explanation for the attempt on Devi's life, and his assurance that he will not bother her again. Ironically, the call triggers an automated gun that shoots Johnny in the face.
Ad blocker interference detected!
Wikia is a free-to-use site that makes money from advertising. We have a modified experience for viewers using ad blockers

Wikia is not accessible if you've made further modifications. Remove the custom ad blocker rule(s) and the page will load as expected.