Featured Article

Made by Jhonen Vasquez and Jenny Goldberg, this comic book is fantastically insane, desertic and surreal landscapes, cute critters who masks total dementia, short stories which varies from silly jokes to quite disturbing stories.
Featured Media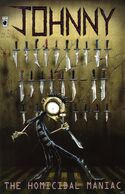 JtHM (first issue)
cover
Ad blocker interference detected!
Wikia is a free-to-use site that makes money from advertising. We have a modified experience for viewers using ad blockers

Wikia is not accessible if you've made further modifications. Remove the custom ad blocker rule(s) and the page will load as expected.