Bill (this is just a codename) is a paranormal investigator in the cartoon Invader Zim. He makes an appearance in "Career Day ", as the person who is supposed to be 'guiding' Dib on the path to his career. He is very paranoid, believing that ghosts, Bigfoot, and even dinosaurs are government conspiracies.
He's also appeared in "The Sad, Sad Tale of Chickenfoot".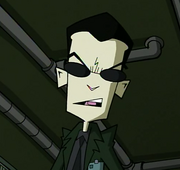 Ad blocker interference detected!
Wikia is a free-to-use site that makes money from advertising. We have a modified experience for viewers using ad blockers

Wikia is not accessible if you've made further modifications. Remove the custom ad blocker rule(s) and the page will load as expected.